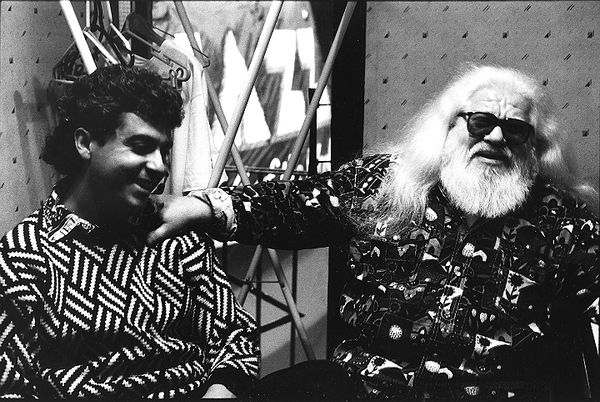 featured lecture

Hermeto Pascoal:
Visionary of Brazilian Contemporary Music

All segments viewable on Youtube in a SINGLE PLAYLIST

Different video lecture segments will be featured on this page.

In this comprehensive lecture given at Denver University's Lamont School of Music, Richard Boukas shares his insights on this unique and prolific genius of Brazilian music. Boukas has performed, studied and taught Pascoal's music for over twenty-five years and as a composer, considers him to be a perennial source of inspiration (his String Quartet "O Campeão" on the Composition/Chamber Music page; also, his piece Chorizinho for Quarteto Moderno).

The Boukas lecture is divided into fourteen (14) independent segments, each with a particular focus.

Boukas begins with Pascoal's childhood roots in the northeast Brazilian state of Alagoas, and discusses his early professional years which melded Northeast Brazilian folkloric roots with jazz in the groundbreaking ensemble Quarteto Novo (1967-69). A large portion of the lecture is devoted to the quintessential Hermeto Pascoal e Grupo (1977-93) featuring pianist Jovino Santos Neto, saxophonist Carlos Malta, bassist Itiberê Zwarg, drummer Márcio Bahia and percussionist Fábio Pascoal (Hermeto's son).

The lecture also discusses Pascoal's "Som da Aura" genre of setting the spoken word to music, his rigorous rehearsal regimen and idiosyncratic harmonic language and chord symbol notation.

The presentation is enhanced by numerous projected musical scores which scroll while original recordings are played in high-quality audio. Many of these scores are Boukas's meticulous full-group transcriptions which capture the distillation of months of rehearsal for a given piece. He also cites frequent statements by group members which explore Pascoal's musical philosophy, creative guidance and organic approach to the rehearsal and compositional process.

It is Boukas's hope that this lecture presentation will bring keener attention and recognition to Pascoal's work in both artistic and academic circles.

Comments and questions from musicians, educators and fans are most welcome.
Visit the CONTACT PAGE and send your message or inquiries directly to Richard.
Hermeto's Harmonic World and Chordal Notation
Additional Lecture Segments on YouTube