Chamber Music Compositions
Colleague Commentaries
"Diálogos Duo repertoire is not only indispensable to today's concert artists, but offers a vast educational resource and gateway for assimilating Brazilian music vocabulary while addressing fundamental technique and musicianship. I am certain that Boukas's present and future works for Diálogos Duo will be a perennial contribution to contemporary clarinet-guitar literature."
Dr. João Luiz Rezende Lopes
Brasil Guitar Duo
Naxos recording artist
Director of Chamber Music, Hunter College of CUNY
_________________

"In Diálogos Duo with clarinetist Louis Arques, Boukas shows us his side as a chamber music composer– delving into a wide variety of styles from frevo and marcha to samba and batuque with complex thematic developments, tastefully done without ever losing the characteristics of each genre."
Jovino Santos Neto
Brazilian pianist, composer, educator
three-time Grammy nominee
former member, Hermeto Pascoal Grupo
_________________

"Boukas is an absolutely amazing man of music- as a composer, a world-class performer and teacher of contemporary Brazilian music. He has completely absorbed this tradition, melding it with contemporary classical idioms to compose a series of pieces in a wholly new and different style. He is poised to receive major international commissions for new works."

Bruce Saylor
composer
composition faculty, Queens College, Aaron Copland School of Music, New York
_________________

"With more than forty years of dedication to the creation and study of Brazilian music, Richard Boukas has gone far beyond those genres closest to jazz such as bossa nova and MPB of the 1970's and 1980's. His impressive body of composer tribute compositions for Diálogos Duo fuses a wide range of traditional genres (including choro, baião, maracatu, congada, frevo) with styles of contemporary composers such as Guinga and Hermeto Pascoal. To date, Boukas's work is the most significant contribution to guitar and clarinet literature based on Brazilian music."
Dr. Bruno Mangueira
Guitarist-composer
Professor of Music
University of Brasilia, DF Brazil
____________________

If I didn't know Richard Boukas I would certainly think he was a Brazilian from Pernambuco. In his works, we observe the refinements of a well-crafted language which has a Brazilian identity imbued with a mastery of our culture.
When listening to the exquisite work of Diálogos Duo, we have a "Musical Conversation" between Richard Boukas- a daring, pioneering composer and guitarist with a very Brazilian accent- allied with the talented clarinetist Louis Arques who has the Brazilian wind as a trademark in his playing. 
Crisóstomo Santos
Professor of Music
Federal Institute of Pernambuco (IFPE)
Sopros de Pernambuco (clarinet quartet)
Federal University of Pernambuco, Brazil 
____________________

The chamber music of Richard Boukas fills a void in a repertoire nearly absent for clarinet and guitar. Although It is not easy to write for these two instruments, his extensive knowledge of various Brazilian musical styles and great gift for composing now offers us a broader repertoire of tremendous value.

Alessandro Carbonare
clarinet soloist
Orchestra di Santa Cecilia
Decca Recording Artist / Grammy Winner
Rome, Italy
____________________

"It is very gratifying to see Brazilian music being taken seriously and represented in great depth outside of Brazil. Especially when it is produced with the artistic sensitivity and creativity of Richard Boukas in collaboration with the talented Louis Arques. On their second album, CHORO TRIBUTES, Diálogos Duo presents a suite of a dozen compositions. They are inspired and thought-provoking pieces that revere historical figures, instruments and styles of great relevance to the world of Choro. Congratulations on another great recording full of beautiful interpretations. Brazil thanks you!"
Dr. Almir Côrtes
Professor, Instituto Villa-Lobos of UNIRIO, Brazil
director-arranger, Orchestra of Fretted String Instruments
____________________

"Richard Boukas' rich array of new compositions for clarinet and guitar is truly wonderful, full of signature Boukasian harmonic surprises, rhythmic vitality and always heart-felt melos, even in the most virtuosic contours. Boukas has created, all by himself, a major repository of novel and substantial music for this delightful chamber ensemble, inspired by the Brazilian musical vernacular, that deserves and will achieve ample international exposure and acclaim."
Ricardo Iznaola
Distinguished University Professor in Music
Artist-in-Residence and Chair of Guitar Studies, Emeritus
Lamont School of Music, University of Denver
____________________
The following tracks represent works for a variety of ensemble instrumentations.

Some pieces (or single movement from a largar works) represent an organic synergy of Brazilian forms, contemporary contrapuntal writing and extended jazz harmonies.

Chorizinho (2) Choro Sinfônia (7), ChoroBop (12, 13), Choro Ricercare (9) and Sinceramente (10), are based in the Brazilian choro tradition. Maestro Duda for Clarinet Quartet and Trio Nordestino for Marimba, Violoncello and Guitar are rooted in the seminal baião and frevo from Brazil's northeast.
 
The String Quartet "O Campeão" (in two movements) dedicated to Brazilian master musician Hermeto Pascoal is featured in Tracks 3-6 in four excerpts. The work defines its own vocabulary based on the initial materials, from the southern Brazilian guarânia to non-tonal vocabularies.
  
Scores and parts for these and other works listed on this page are available from the STORE Chamber Music subpage
Established ensembles seeking to publicly perform and/or record a work may contact the composer directly for complementary artist copies.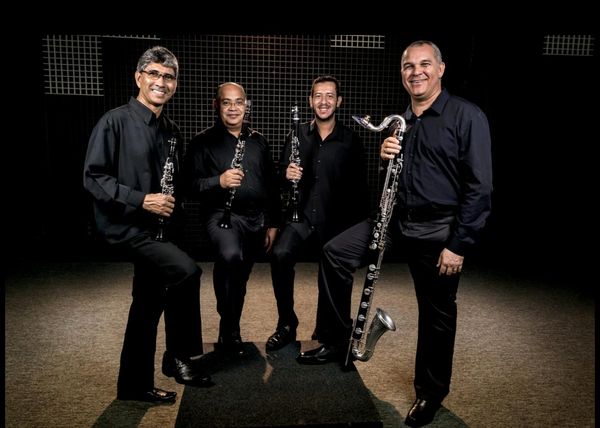 0:00/3:10

0:00/5:23

0:00/3:51

0:00/2:46

0:00/5:24

0:00/2:35

0:00/2:21

0:00/3:30

0:00/6:36

0:00/4:35

0:00/3:24

0:00/3:02

0:00/3:19

0:00/4:22

0:00/5:15
Score and Playalong Bundle